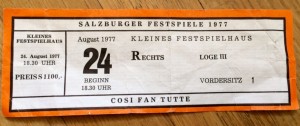 This season was the first time we also got to work with two Road Scholar Tours to the Salzburg Festival – and we had an amazing time.
What made it very special is that we met some old acquaintances who had been on previous tours to Vienna and in some cases, even to our house for a private concert! It was so great to see these music lovers again and we hope to have similar encounters next summer!
The Salzburg Festival is, of course, very special in itself. As the world's biggest music festival, it has no shortage of famous artists on it's playbills. This has pretty much always been so, and we received some eye-witness proof of this by a Road Scholar: She gave us a ticket from the Salzburg Festival 1977 where she had seen a production of Cosi van Tutte. On the back, she carefully jotted down the cast, and here comes:
Karl Böhm (conductor), Peter Schreier, Hermann Prey, Gundula Janowitz, Rolando Panerai, Brigitte Fassbänder, Peri Christ…. WOW!
That is an all-star cast if I've ever seen one! I wonder if ticket stubs of this year's Rosenkavalier will be kept and amaze people in 40 years time…